Waiting on Wednesday is a weekly event, hosted by Breaking the Spine,
that spotlights upcoming releases that we're eagerly anticipating.
I'm
EAGERLY ANTICIPATING
the final book in The Lunar Chronicles by Marissa Meyer.
*If you want to find out more about this wonderful series check out my
Cinder book review
:D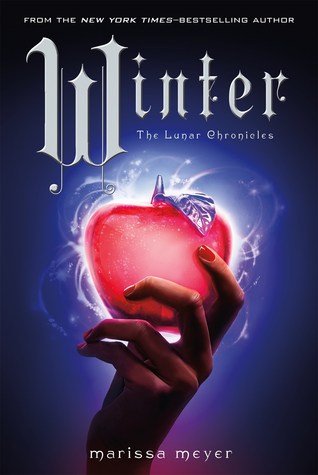 Princess Winter is admired by the Lunar people for her grace and kindness, and despite the scars that mar her face, her beauty is said to be even more breathtaking than that of her stepmother, Queen Levana.
Winter despises her stepmother, and knows Levana won't approve of her feelings for her childhood friend–the handsome palace guard, Jacin. But Winter isn't as weak as Levana believes her to be and she's been undermining her stepmother's wishes for years. Together with the cyborg mechanic, Cinder, and her allies, Winter might even have the power to launch a revolution and win a war that's been raging for far too long.
Can Cinder, Scarlet, Cress, and Winter defeat Levana and find their happily ever afters?


IT'S SO BEAUTIFUL!!!
Oh, and it's a little over 800 FREAKING PAGES?!?! Seriously guys, there are tears in my eyes.
The most pages I've ever read is around 700 and something with Harry Potter and the Order of the Phoenix!
I barely started this series like a month ago, but I already miss the characters. I can't wait to see how Marissa Meyer will wrap up this amazing series...hopefully with no crazy deaths. I really want to see what happens to Levana because now that I read Fairest, I kind of feel sorry for her.
There are many things I'm excited for in Winter, but here are a couple:
I'm way excited stoked to see how Cinder and Kai will work together and give me all the feels because they're finally together!
Guys! We're going to Luna!!
I really want Scarlet back with Wolf!
I'm really looking forward to some Winter and Jacin feels.
Winter and Selene were like childhood bff's and I can't wait to see the reunion!
I'm just excited to see the gang all back together
Here's to wishing it was November 10th already!
What book/s are you eagerly anticipating?